Next Gig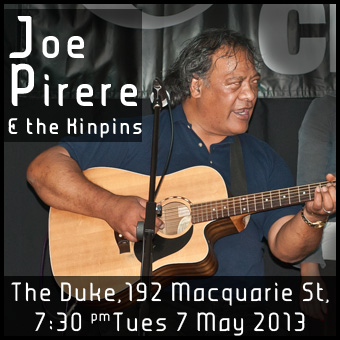 Whats New ?
Oatlands Gig 26 May 2013
Another great afternoon of Blues is coming up at Oatlands - Sunday 26 May from 12:00, Oatlands RSL. BYO instruments, jammers welcome or just turn up and enjoy an afternoon of Blues.
Owen Campbell in Hobart 27 June
Blues artist Owen Campbell will visit Tasmania 27 - 29 June promoting his new album "THe Pilgrim". Catch him in Hobart at the Republic Bar 27th June. www.moshtix.com.au/1300GETTIX [Read more ...]
Joe Pirere and The Kingins at the the Hobart Blues Club Tues 7 May
Starts 7:30 pm as usual. Free admission and book beforehand if you want a meal .
Like to play at the HBC?
We are always interested in Blues Acts for our regular gig at The Duke, 1st Tuesday of the Month. Contact usfor more info. Jammers always welcome, just make yourself known to Jacki on the night.
HBC Bushfire Benefit Gig
The Feb 5 gig raised $1080.90 & the Melbourne Blues Appreciation Society contributed $225. A total $1305.90 will be donated to the Red Cross Tas Bushfire fund. Well done to all involved !